Gourmet holidays in South Tyrol - Italy
Offers for connoisseurs at the Gourmet Hotel Lindenhof in Naturns
Dine and enjoy delicacies in modern lifestyle ambience: Many offers included in the Three-quarters Gourmet Board at the Wellness Hotel Lindenhof in South Tyrol ensure tasty holidays.
Lindenhof Kochbuch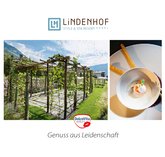 "Die Kunst und Herausforderung in der Küche besteht darin, die Produkte zu schätzen, sie zu veredeln und nicht durch künstliche Zusatzstoffe zu verfälschen." Andreas Pircher Chefkoch im DolceVita Hotel Lindenhof****S.
360° view of the restaurant
Chef Andreas Pircher at the Dolce Vita Hotel Lindenhof
Every day, Chef Andreas Pircher and his kitchen team prepare all dishes with fresh ingredients.
Wine store, whisky, gourmet treats and culinary delights in South Tyrol: all under one roof
End your day with a glass of the best South Tyrolean wine or a drum of golden whisky: Joachim Nischler himself is a passionate whisky and wine connoisseur – only the best wines are making their way to the house-own wine store. Experience the variety and quality of the fine wines and whiskies during a sampling session.
Holidays at the Belvita gourmet hotel Lindenhof
.