Dolce Vita advantages in the Lindenhof
Wellness holiday in the Lindenhof Resort in South Tyrol
Guests at the DolceVita Hotel Lindenhof in Naturns enjoy all DolceVita advantages: 'DolceVita Around' entitles you to use all restaurants, wellness areas, pool landscapes and leisure facilities of all four Dolce Vita Hotels – without any additional charges.
#dvlocal = regional & valuable
Our region & our nature are our capital - quality from South Tyrol!
Sustainability is very important to the DolceVita Hotels. Responsible use of resources and our land is an essential part of DolceVita's corporate governance strategy. At DolceVita Hotels, we see it as our duty to be more sustainable and to communicate the documentation about this #greenthinking to the outside world.
The goal is clear: conscious use of nature and the environment to create a framework for the sustainability of the future in South Tyrol! Here are the key points that the DolceVita Hotels in Meran and Vinschgau implement to achieve this goal.
Our sustainability - out #greenthinking
E-mobility
#dvlocal - food from South Tyrol
Energy & construction
E-mobility
Charging stations instead of gas stations - so far as it is not yet. But the DolceVita hotels offer many advantages in terms of electric mobility:
E-Smart Convertible in ever DolceVita Hotel!
Electric charging stations in every DolceVita hotel for hotel guests
Map with all charging stations in the surrounding area and South Tyrol for your trip by electric car
Charge card exclusively for our DolceVita guests for loading at the charging stations throughout South Tyrol (Alperia)
#dvlocal - authentic food from South Tyrol!
Our region, its people and products are very important to us. That's why DolceVita Hotels decided on a great path: we support local producers and farmers in the immediate vicinity! We specifically select partners and suppliers who have taken a consistent path: regionality and sustainability!
Our partners: valuable - regional - sustainable! 12 producers, farmers, agriculturer etc. are on our side for the next years!
Natural foods that are cultivated with authentic South Tyrolean "heart's blood" and in which you "taste" purity:
#dvlocal - you will consistently find this label in your DolceVita Hotel:
On the menu card in the evening, when food from our producers are used
In the weekly program, in the day or evening post we introduce our producers. Many of them have their own farm shop, where you can buy the valuable foods!
In the sauna, wellness and beauty area of ​​the DolceVita Hotels - for example in our bio-certified BERG cosmetics line
Energy and construction
In all DolceVita hotels you can see sustainable building in many details. Optimizing and increasing the economic potential of buildings and ecological and sustainable energy production are just a few important aspects.
Here are the key points:
Use of photovoltaic energy for the hotel
Use of pellet plants to generate energy for the hotel
Connection to the ecological district heating plants of South Tyrol
Cogeneration units
Construction with local raw materials
Energy-conscious renovation with thermal insulation - K-value window and cascade heating
'DolceVita Around' XXL relaxing holiday in South Tyrol
The 'DolceVita Around' offer of the five South Tyrolean DolceVita Hotels, which are situated within a radius of 30 kilometres, brings variety to your holiday. Book your holiday at the DolceVita Hotel Lindenhof in Naturns near Meran and enjoy an variety of offerd from all 5 DolceVita Hotels.
Wellness Around
Select from the wellness and beauty offer of the DolceVita Hotels: indoor and outdoor pools, various wellness and beauty facilities, Saunas, comfort and resting loungers, fitness areas, gardens and wellness specialists gurantee you perfect holidays.
24 pools
1.847 m² water surface
8.840 m² wellness and beauty facilities
31 saunas of these are 4 sky saunas with panoramic views and themed infusions and XXL whielpools
744 cuddy relaxation loungers
12.825 m² garden area
33 wellness specialists
1 medical center
Fitness Around
Select from the fitness offer of the DolceVita Hotels: guided hiking tours – including hiking equipment - per week, South Tyrol's most beautiful golf courses, fitness rooms with professional fitness trainer, individual exercise program and nutrition advice.
Up to 5 guided alpine hikes per week
Fitness rooms with the newest cardio and weight machines
Supervised fitness up to 40 hours a week with nordic walking, yoga, pilates, jogging and golf
Professional advice: nutrition, girness, bioelectric impedance analysis
at lest 15 guided MTB tours per week
2 to 5 guided road bike tours per week
Dine Around
Select from the gourmet offer of the Dolce Vita Hotels: Sumptuous breakfast buffet, show kitchen, pastries and coffee as well as a varied gourmet a la cart menu with salad buffet, dessert and cheese selection in the evening.
Culinary highlights, kitchen paries, show kitchen and tempting creations
DolceVita kitchens on haute cuisine level
5 wine cellars with tastings and degustations
Gluten and lactose-free dishes and vegetarian cusine for the health-conscious
Music Around
Lively live music at the DolceVita Hotel Lindenhof and the other DolceVita partner hotels provides plenty of entertainment.
Lindenhof - Friday
Jagdhof - Tuesday
Feldhof - Thursday
Preidlhof - Sunday, Tuesday and Thursday
Alpiana - Monday and Friday
Culture Around
Discover the culture around the Dolce Vita Hotels. Castles, fortresses, churches and nature parks invite to cultural excursions.
Juval Castle: The domicile and museum of the mountaieering legend Reinhold Messner
Churburg: Marvel at Europe's largest private armory
Ice museum: Renhold Messner's museum in Sulden am Ortler
St. Prokulus Church in Naturns: Visit the oldest frescoes in the German-speaking area
Gardens of Traurrmansdorff Castle near Meran (Italy's most beautiful garden 2005)
Ötzi Museum in Bolzano and the Archeoparc in Val Senales: Everyday life in Ötzi's time
Laaser Marble: the white gold is also used for the preparation of DolceVita BERG cosmetic products
Healthy sleep
The Hotel Lindenhof offers restful sleep. Choose from 15 different pillows and special spa pads. For a wonderful relaxation, the better-sleep-basket provides the tea menu with selected regional teas.
Better-sleep-basket
With reading material, travel diary, relaxation music, fine fragrences, sleep mask and dreamcatcher
Tea menu
With teas from organic certified cultivation: enjoy tea specialities from the Vinschgau District
Wellness mattress toppers
For wellbeing and relaxing sleep with peat, willow bark, wool/Swiss pine, yak hair/musk filling
Pillow menu XXL - Pillows à la carte
Swiss pine pillow: Swiss pine wood shavings, millet seeds and St. John's wort will help you relax in case of any tenstions.
Relaxation pillow: Sheep's wool, stinging nettle, lavender, hops, rose petals and herbs will help with sleep disturbances and are especially soothing and relaxing.
Love pillow: Horse hair, stinging nettle seeda, fennel, rose petals and musk petals - an aphrodisiac herbal mix!
Mediterranean pillow: Kapok, lavender, rosemary, thyme, lemongrass and orange petals
Spelt-neck-crescent pillow: Spelt is especially useful in the case of tension in the musculature of your head, neck and shoulders. It increases blood circulation and soothes cramps and rheumatic tensions.
Spelt-neck-roll pillow: Spelt allows your skin to breathe; a soothing, relaxing delight.
Cherry seed pillow: Cherry seeds are effective against cramps, colics, pain or simple cold feet.
Energy pillow: Spelt, millet peel, buckwheat peel, oat straws, horsetail, peppermint
Buckwheat-vein pillow: Buckwheat improves blood circulation.
Relaxation pillow: Melissa, hop cones, lavender, valerian for deep relaxation
Herbal sleeping pillow: Spelt, melissa, hop, lavender and St John's wort - 

The perfect herbal mix for sleepy heads.

Grapeseed pillow: The natural warmth of grape seeds is beneficial in the case of circulatory disturbances, tensions and rheumatic afflictions.
Beewax propolis pillow: Propolis is one of the strongest natural antibiotics. Propolis has antibacterial, antiviral and antimycotic properties. Beewax strengthens the metabolism.
Mountain herb pillow: Arnica, St John's wort, chamomile, marigold and hayflower
Best pillow: The stable and organic shape of the pillow will sooth tensions in the neck and back, and have a beneficial effect in the case of problems with the invertebral discs, lumbago, migraine and snoring.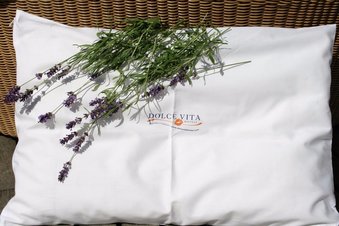 BERG Cosmetics – natural beauty from South Tyrol
The as organic certified care product line BERG Cosmetics is only available at the Dolce Vita Hotels. BERG Cosmetics products contain no preservatives and are made from natural olive oil, bees wax and organically grown or in the wild collected native herbs. The ingredients of alpine rose and edelweiss, mountain spring water and South Tyrolean marble promote relaxation and beauty.
Time together – Snuggle moments at the DolceVita Hotels
Enjoy valuable time together with your loved one: newly in love or a long time together – lovers are well looked after at the Hotel Lindenhof in South Tyrol.
Snug Breakfast in your room
DolceVita Convertible
DolceVita Vespa
Cuddle loungers in the well-being oasis
Cabri tours in vinschgau - south tyrol