Your host in South Tyrol -Italy
Your hosts - the Nischler Family at the Lindenhof in Naturns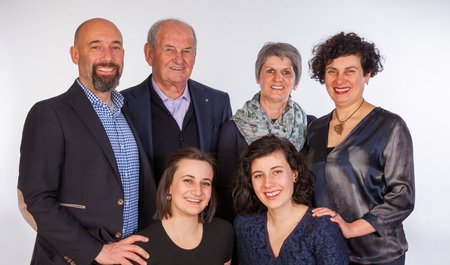 Junior family - Joachim Nischler with his wife Lorella and their daughters Chiara Maria and Emma Fiore and senior family - Werner Nischler and his wife Doris.
South Tyrolean hospitality
South Tyroleans are naturally hospitable and welcoming. We look after our guests with great care. Italian zest for life and South Tyrolean sociability await you at the Dolce Vita Resort Lindenhof in Naturns. Already in their third generation, your hosts - the Nischler Family – are here to accompany you through your holidays in Naturns near Merano. They know the most rewarding Hiking Trails and the most beautiful Sights. Being great sports enthusiasts, they also have great tour tips for your Activity Holidays in South Tyrol.
Sports holidays in Naturns
Junior manager and host Joachim Nischler is a passionate mountain biker and certified racing cycle guide. Hiking is also one of his hobbies. He and his dedicated tour guides are delighted to accompany you on tours and provide you with tips for excursions into the South Tyrolean mountain world. Senior manager Werner Nischler and his wife Doris are ambitious golfers and are delighted to accompany you to one of the surrounding Golf Courses. Your hosts know the secrets of the South Tyrolean cuisine: treat yourself to the tasty delicacies of the Three-quarter Gourmet Board and enjoy all the amenities that the Wellness Area of the Four Star Superior Hotel Lindenhof in Naturns near Merano has to offer.
The history of the Lindenhof
The Lindenhof was established as a small B&B by Mr Nischler senior in 1972. The hotel has been annually converted and renovated since 1992 when the Nischler Family junior took over. In 2004, the hotel capacity was extended to 114 beds. Since 2018 the Lindenhof awaits you with a brand new and modern wellness area and new family suites. A new building for families with sports hall, cinema, play pools and huge water slide will provide plenty of fun activities for you and your children. This is how a simple B&B was turned into the modern Resort Lindenhof as you know it today.
Design and ambience at the Lindenhof
The affinity to South Tyrol can be found in the design throughout the hotel complex. Native woods like larch and Swiss pine are combined with stones from the Vinschgau Sonnenberg Mountain in the rooms, the restaurant and the Wellness Area. Design & Ambience create a feel-good atmosphere: warm materials and a sophisticated design provide a relaxed ambience. The Art Exhibition "Flora" supplies creative style elements.