Tour suggestions for your biking holiday in Italy
Bike tours in Vinschgau Valley - South Tyrol
In the Vinschgau Valley in South Tyrol you can choose from more than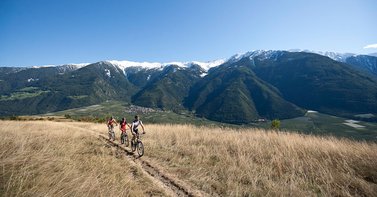 Our mountainbike tours
Joachim Nischler's most favourite mountain bike tours around Naturns
Here you will find your Sport-Hotel Lindenhof host's most favourite mountain bike tours in and around Naturns.
Mountain bike–Tour recommendations around Naturns
Madritsch Pass 3.146 m with 73 km and 2.500 altitude metres, this is the highest Transalp pass in the middle of the National Park Stelvio Pass. The sight of the imposing mountain scenery of the Ortler is simply breath-taking.
Eisjöchl Pass 2.875 m with 90 km and 2.600 altitude metres, this is simply one of the best known and most beautiful alpine crossings. The pass leads from Naturns through the Pfossental Valley to Pfelders whilst the return is taken via Merano. Attention! Marmots and ibexes cross the path.
Transalp Classic: Naturnser Alm Vigiljoch Pass with 40 km and 1.500 altitude metres, the beautiful 16 km ascent is rewarded after 1.500 altitude metres with an amazing panoramic view to the Nature Park Texel Mountains, the Ötztal Valley Alps, the Dolomites and the Ortler region.
The Stelvio Pass: with its 48 serpentines, is this the highest pass open to traffic and is a must for mountain bikers and racing cyclists alike. Host Joachim Nischler stages the Stelvio Pass Challenge every Tuesday.